Our Team
At Castle Capital we have a flexible team of Experts that can take care of your Financial Planning Needs from Wealth Management, Mortgages, Investments, Protection & Pensions.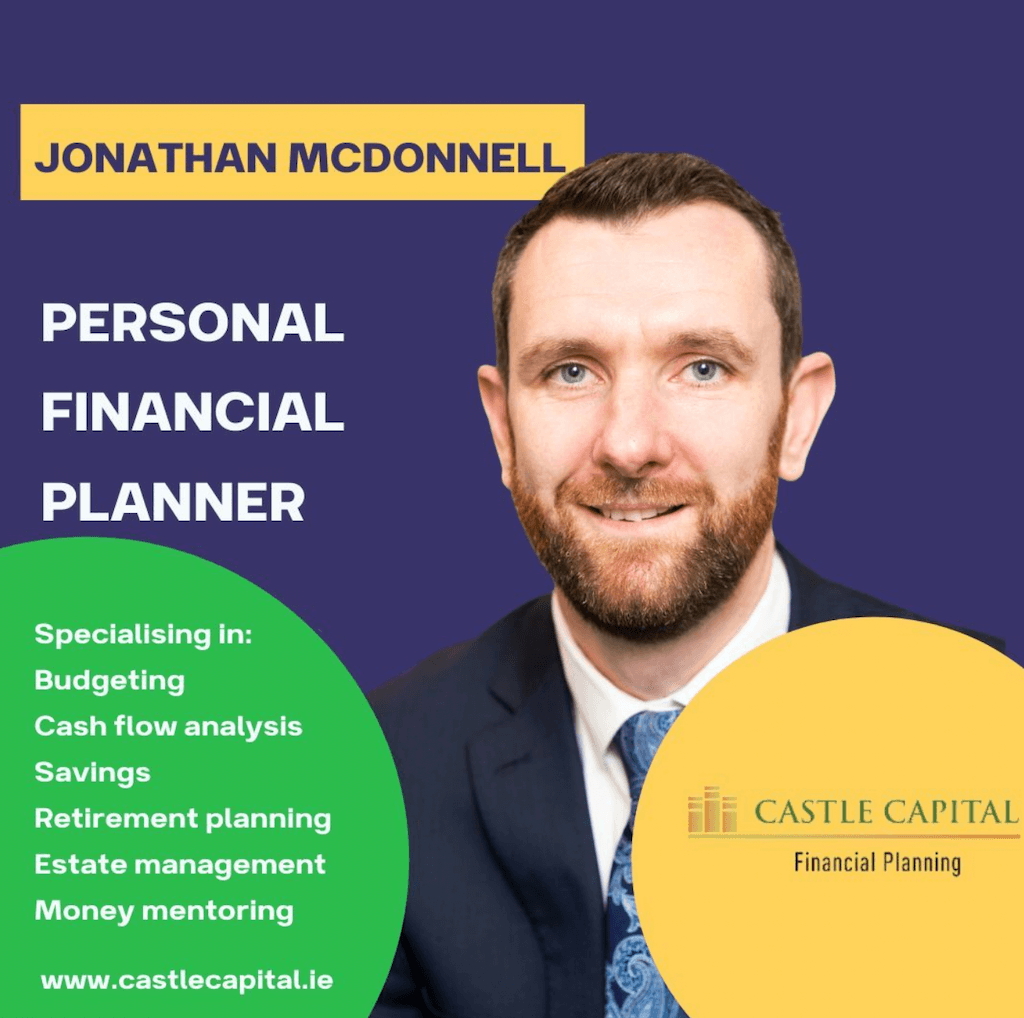 As a managing director, Jonathan is responsible for various aspects of the business. Client relationship management as well as the strategic direction of the business are at the top of Jonathan's list. Jonathan has developed our personal and corporate financial planning methodologies and regularly meets with clients to discuss their financial planning requirements.
Jonathan is currently completing the CFP, is a Qualified Financial Advisor and has a degree in Marketing, Insurance and Risk Management from the University of Limerick.
Jonathan McDonnell QFA is also currently the chairman of a voluntary fundraiser – The Brian Hunt Memorial. The Brian Hunt Memorial Committee were recognised in 2012 by being nominated for the People of the Year in Limerick for raising €20,000 for the Irish Kidney Association. As chairman of the Brian Hunt Memorial, Jonathan has also helped raise €6,000 for Temple Street Children's Hospital in 2013. As part of the 2014 fundraising efforts, Jonathan, committee members and friends alike competed in the Adare to Survive 7.5km Military Style obstacle course raising funds for Cliona's Foundation, raising €1,500 in their efforts.
Jonathan is currently coaching youths soccer with Shelbourne AFC and has completed various coaching qualifications for soccer. He loves to tell people he can play golf as well. We're yet to see him hit a ball though.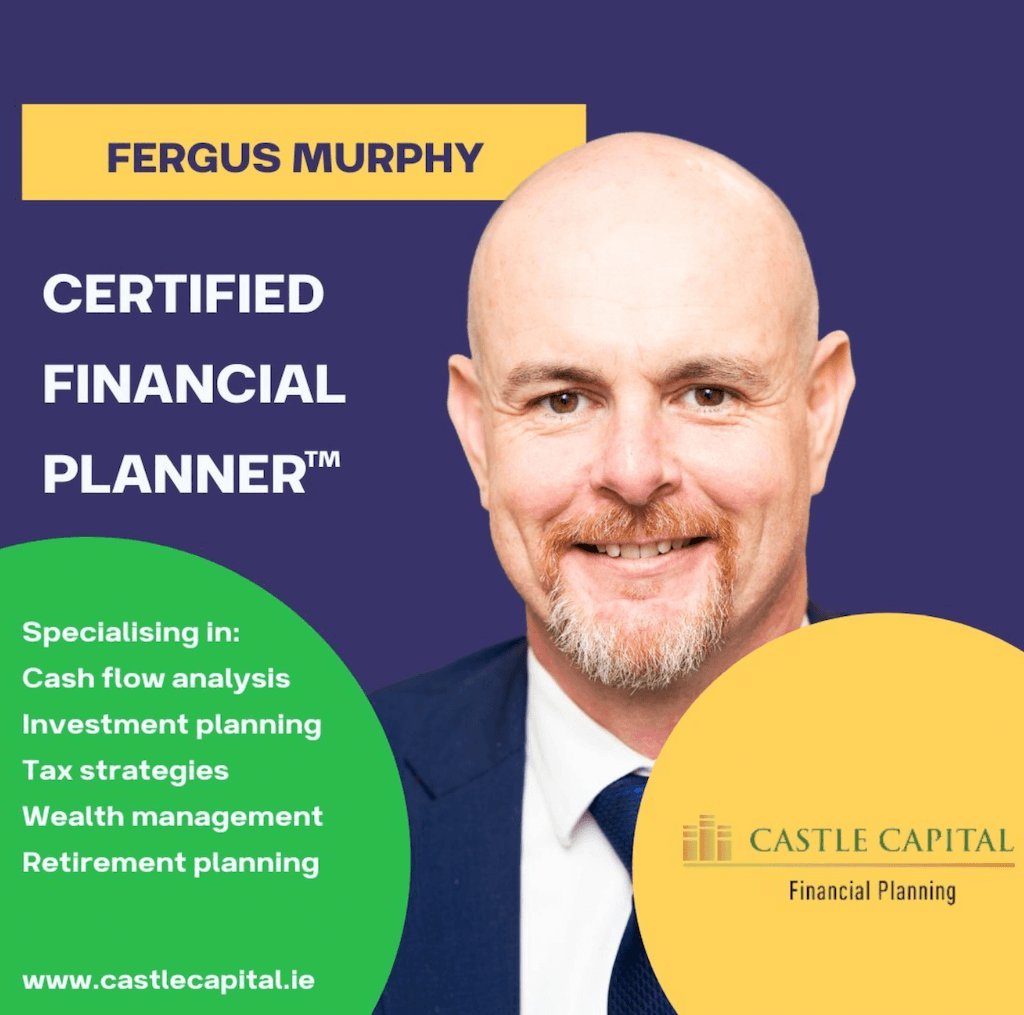 Fergus is a managing director of Castle Capital and involved in day to day business operations and client portfolio management. He has been employed in the financial services industry since 1999. His career roles have involved him in a wide range of disciplines including asset finance, mortgage lending, personal financial planning, life assurance, pension and investment advice, pension administration, pension law and trusteeship and is a Revenue approved Pensioneer Trustee.
He holds qualifications from the Institute of Banking, is a Qualified Financial Advisor (QFA), a Specialist Investment Advisor (SIA), a Licentiate of the Institute of Bankers, a Pension Trustee Practitioner (PTP) a member of the Life insurance Association (LIA) and a member of the Brokers Ireland. He holds a Master's degree in Financial Planning from University College Dublin and is a CERTIFIED FINANCIAL PLANNER® professional.
When out of the office Fergus enjoys spending time with his family and getting out for an occasional cycle.
John Mansworth, Head of Mortgages is an accredited product advisor in Life Assurance and Mortgages. He specialises in providing and arranging Mortgages such as Self Builds, First Time Buyer and Second Time Buyer Mortgages. John also arranges Family Protection for clients and debt advice where needed.
John has worked in the Financial Services Industry for over 25 years, has a large network of clients and will continue to provide expert advice to new and existing clients.
John is the Chairperson of the Breaking the Silence Group in Cobh, Co Cork. Breaking the Silence is a Cobh-based voluntary group that works to help create a Suicide Safer Community by connecting the person at risk of suicide with life preserving resources. It specialises in Suicide Prevention Training, and was started by volunteers in 2007 after a high number of deaths by suicide in the area. Since being set up, Breaking the Silence has trained people all around Ireland. It is recognised as a leading voluntary group on driving suicide awareness and provides free programmes across Cork city and county in the areas of suicide intervention and Prevention. i.e Suicide First-Aid.
John has been an exceptional asset to the business with many new clients, active involvement in our marketing initiatives and he also manages individual and group accounts.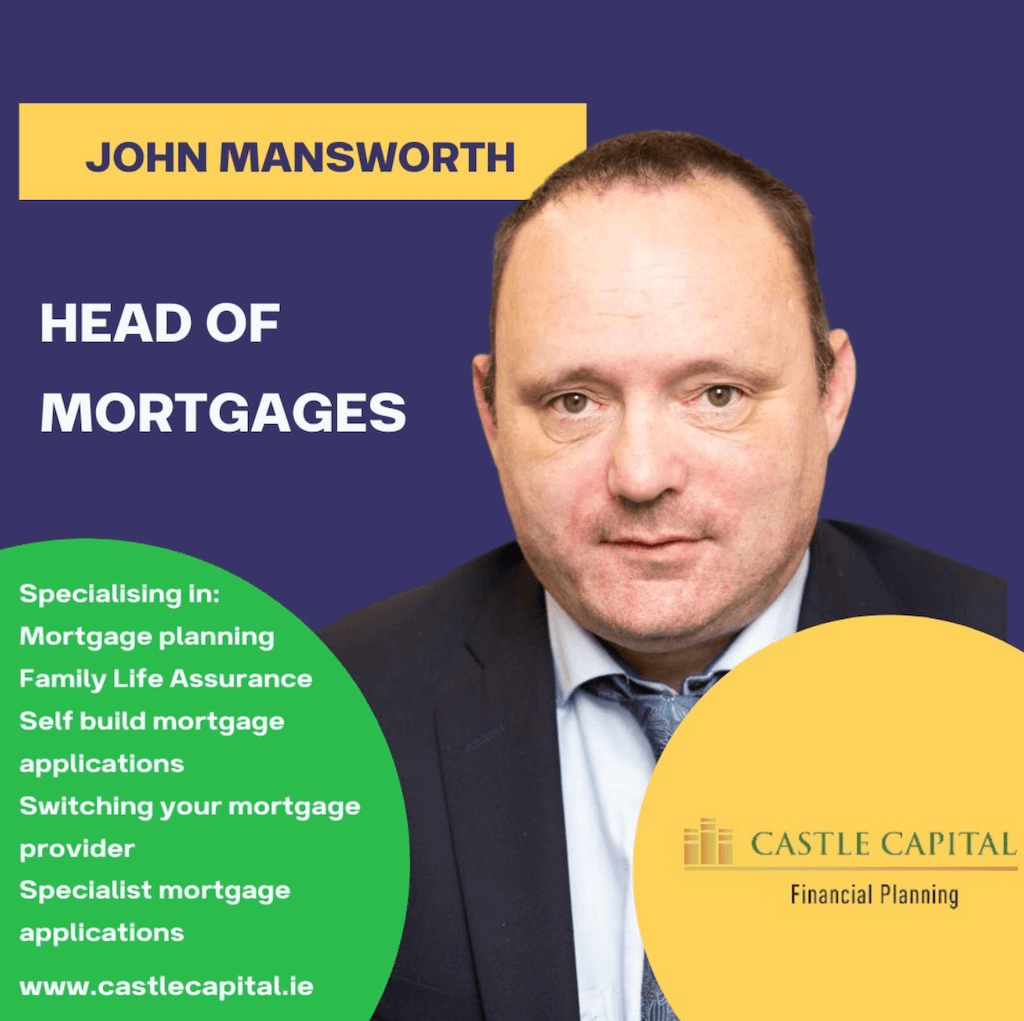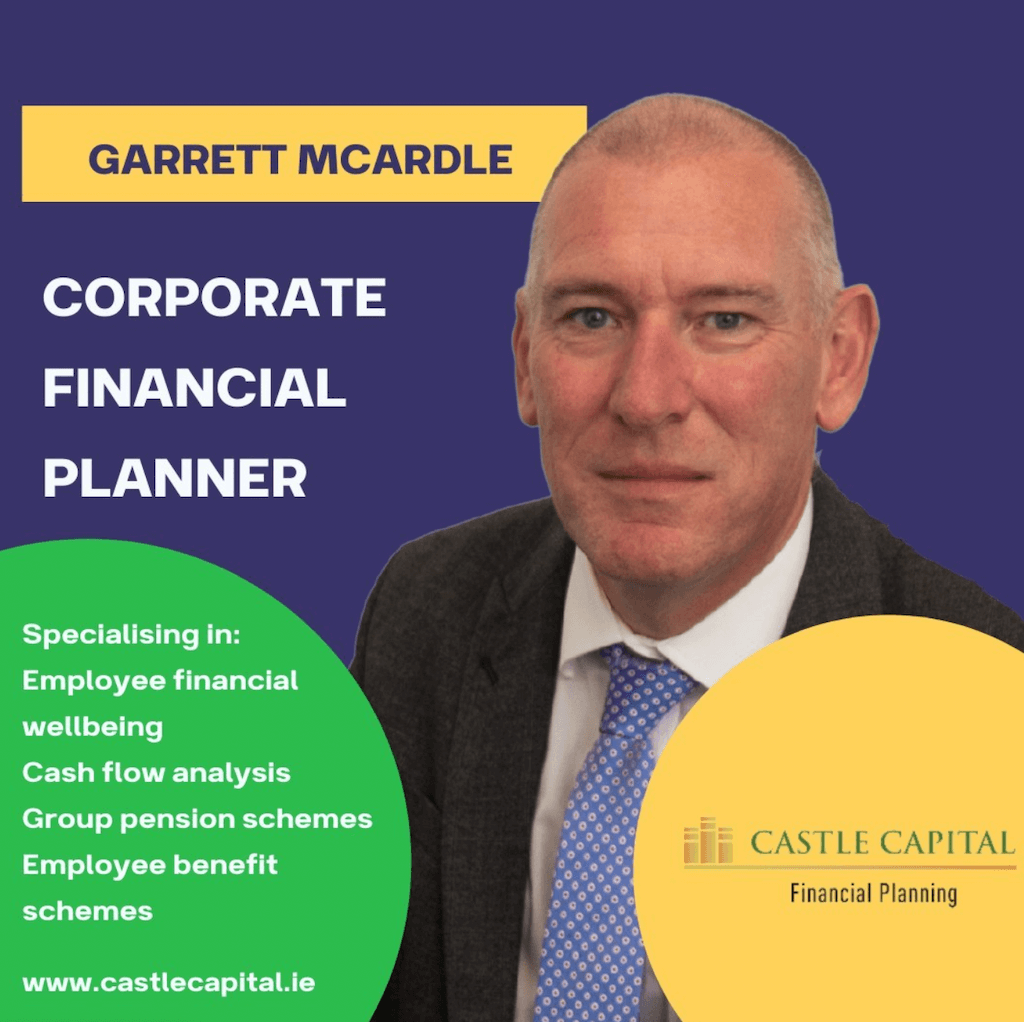 Garrett is our Corporate Financial Planner; his main responsibility is guiding our corporate clients to make certain they have the best and most robust benefit offering to their employees. Garrett also meets personal financial planning clients and helps them on their financial journey to help them reach their goals. Garrett is very passionate that all clients receive the best advice to ensure their financial wellbeing.
Garrett is a Qualified Financial Advisor and a Retirement Planning Advisor. He has over 30 years' experience working for some of the largest Life and Pension Providers in Ireland.
Garrett is originally from Dublin and moved to Limerick over 20 years ago and still finds time to return to Dublin to see family and his beloved Dublin GAA team in Croke Park.
Garrett was involved until recently as an underage soccer coach and secretary of the club but now can enjoy watching his two children playing soccer, hurling, camogie, football, and tag rugby.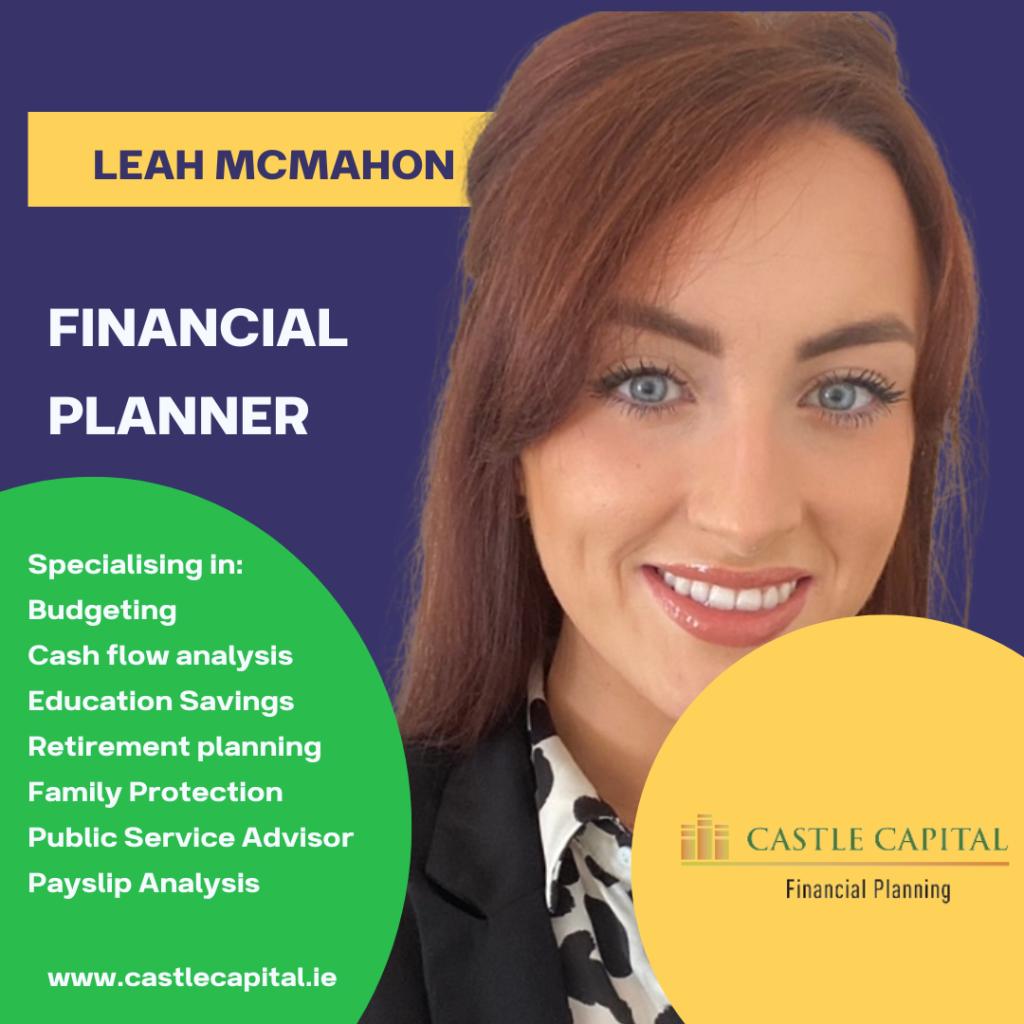 Leah is a qualified financial advisor (QFA) and retirement planning advisor (RPA).
Leah graduated from the University of Limerick with a degree in Business before qualifying as a financial advisor.
Leah is passionate about financial education, ' I strive to give my clients the understanding and ability to organise their finances in a way that allows them to reach their goals!' Key areas of focus are cash flow management, protection, educational savings and retirement planning.
Outside of work,  Leah is a typical busy mum, dedicating her evenings and weekends to GAA training or dance classes! The odd quiet evening is spent watching Netflix or the reading the latest Shari Lapena novel.
Alan Buckley is a Financial Planner with a degree in Business from the university of Limerick. Alan also holds QFA and RPA Designations from the LIA.
He has worked in the financial services sector since 2018. Alan specialises in pension, investment and saving opportunities for his clients. Alan joined Castle Capital in June 2022 with a goal to develop strong relationships for the foundation of everything he does, both professionally and personally.
Outside of financial services Alan is a avid sports fan so can be found on the golf course, hurling pitch or in front of the television in his free time.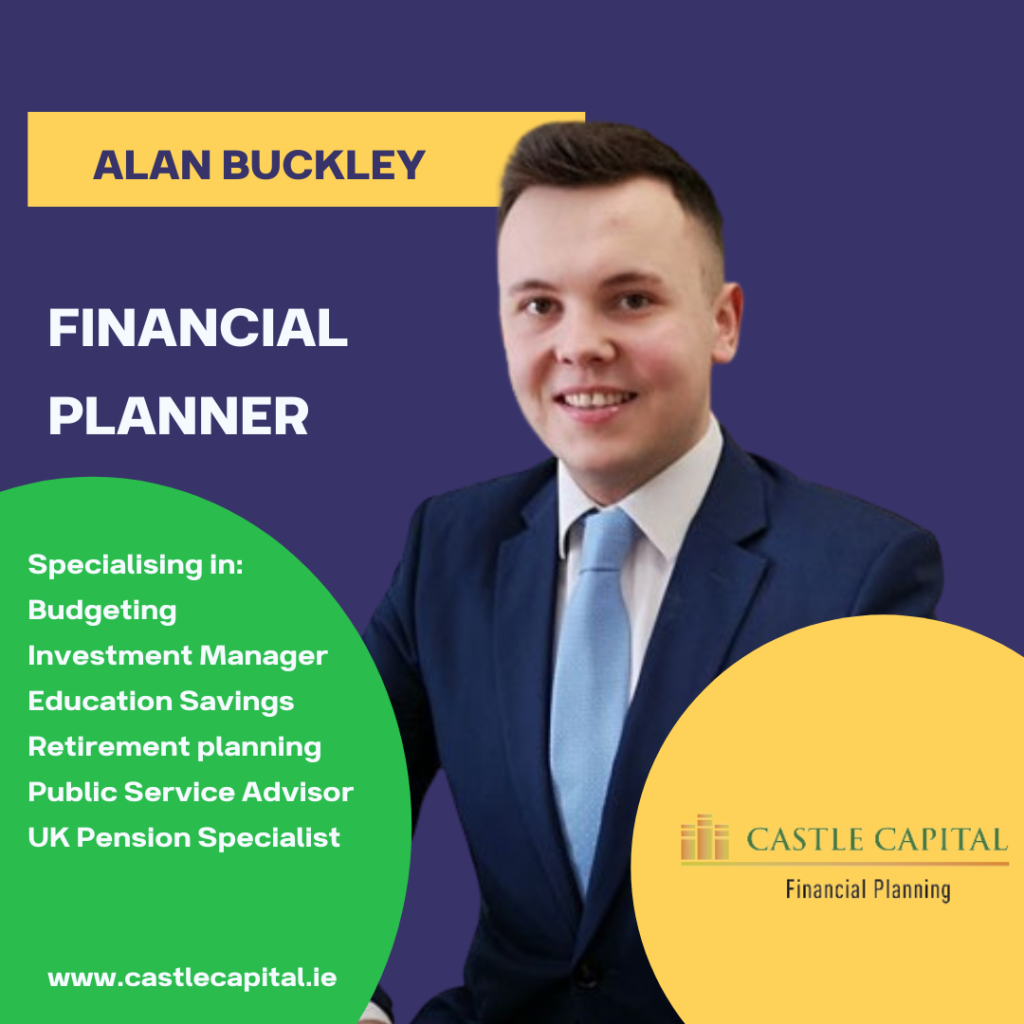 As Planning Administrator at Castle Capital Financial Planning, Colum assists the team in the day to day administration of achieving our client's financial goals. Implementing products, maintaining client's files and preparing financial plans are some of the day to day duties that Colum undertakes. Colum also provides a face to the front of office when clients come in to meet with us. As a new member of the team, Colum has increased our productivity by assisting in the management of our client services.
Having completed his QFA exams, Colum is now a Qualified Financial advisor. He has further ambitions to complete the RPA exams and then progress as a Certified Financial Planner. Colum has a degree in Financial Mathematics in the University of Limerick.
In his downtime, he plays Senior hurling with Ahane GAA club , whilst also volunteering as a coach for the under 17 and 19 hurling teams. Colum enjoys following the Limerick hurlers and Munster rugby around the country.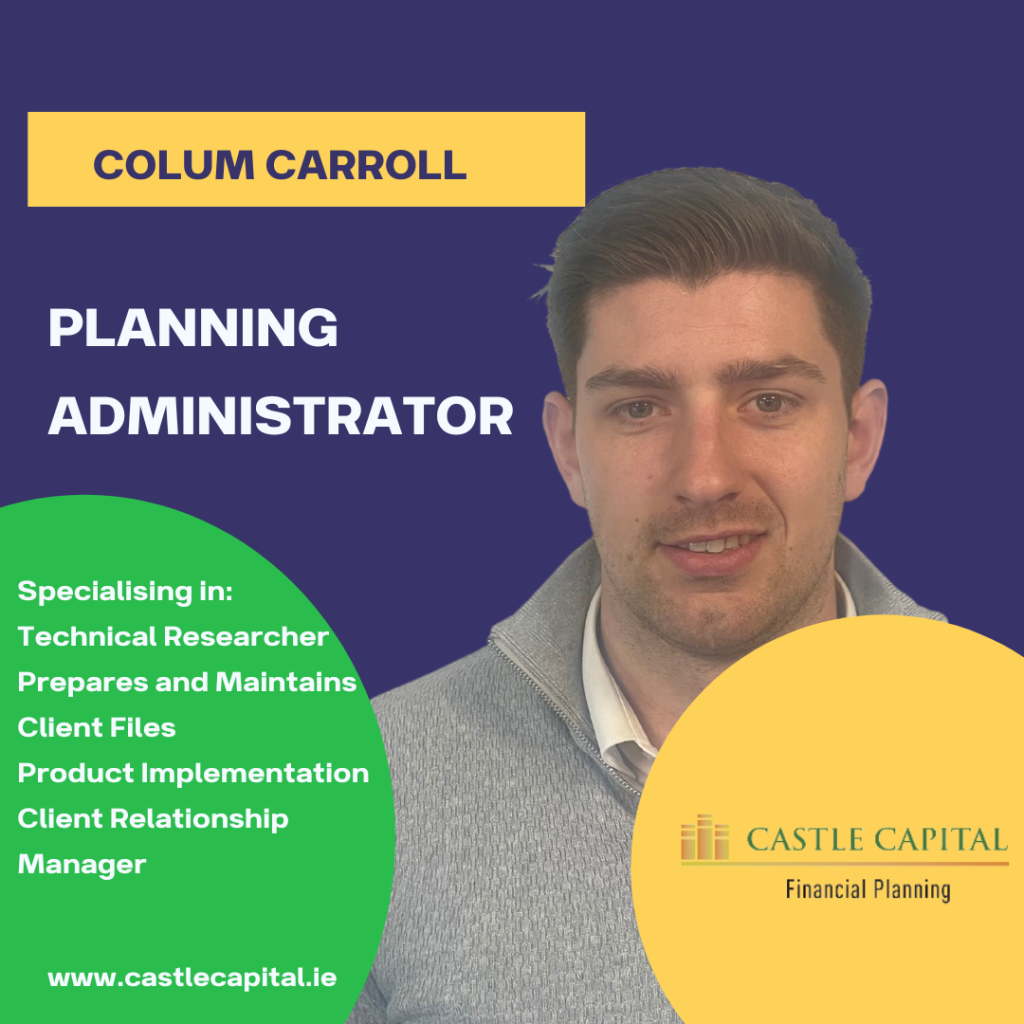 Monday – Friday: 9:00 to 17:30
Castle Capital Ltd,  The Mulcair Centre, Annacotty Business Park, Annacotty, Co Limerick.